National Association of Chimney Sweeps
National Association of Chimney Sweeps (NACS)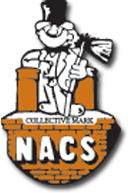 About NACS
The National Association of Chimney Sweeps (NACS) promotes high standards for the sweeping, inspection and maintenance of chimneys. It is an active member of the European Federation of Chimney Sweeps (ESCHFOE).
It is the national trade association in the UK to represent Chimney Sweeps and is exclusively recommended by all major fuel organisations – Solid Fuel Association, HETAS (Heating Equipment Testing & Approval Scheme), British Gas, OFTEC (Oil Firing Technical Association), National Fireplace Association.
Supported Trades
*MyBuilder does not endorse this particular trade association or professional body.